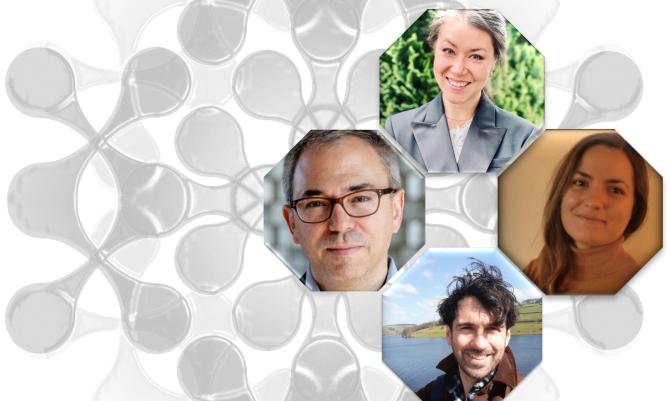 Ethics in AI Lunchtime Research Seminars
By special invitation from Dr Charlotte Unruh, Dr Linda Eggert, and Professor John Tasioulas, you are invited to the Institute for Ethics in AI Research Seminars during Hilary Term. The sessions will primarily showcase work in progress by academics at Oxford, though they may also include a small number of speakers from further afield.
Those local to Oxford can meet the speaker in person and raise questions during the Q&A. Conversations may continue afterwards during the networking session whilst you enjoy the free buffet lunch. For those further afield, there will be a remote option. To help us carefully manage the numbers and ensure you receive the relevant joining instructions, please register your interest by clicking on the date and completing the registration form for each session (see below). Further joining instructions will be forwarded once you register.

Duration: Seminar from 12:30pm-1:30pm. Networking and lunch (for those registered) from 1:30pm-2:30pm (all timings refer to UK time zone)
Remote: The connection link will be sent to you once you register (usually the day before the event).
In-person Venue: The address will be sent to you once you register.

These sessions will run weekly during term time. A new form will need to be completed for each seminar so that you receive the relevant joining instructions.
For more information about our events and other news, please subscribe to our mailing list.
Speakers
Presenter: Professor Vili Lehdonvirta (OII)
Title: Cloud Empires vs. Nation States: Holding Deterritorial Institutions Accountable
This week's seminar is online only.
Presenter: Professor Alex John London (Carnegie Mellon)
Title: Ethical Issues in Next-Generation AI Assistive Systems: Dependence, Alignment, and Navigating the Moral World
This week's seminar is online only.
Presenter: Shu Yang Lin (Cofounder, Public Digital Innovation Space)
Title: Digital Democracy in Taiwan
Presenter: Professor Robert Spano (Oxford Law)
Title: The European Union Artificial Intelligence Act and the Protection of Fundamental Rights: Insights from the former President of the European Court of Human Rights
Presenter: Dr Carina Prunkl & Dr Milo Phillips-Brown (Philosophy, Oxford)
Title: Noise: A Flaw in Algorithmic Judgement?
Presenter: Dr Emmanuel Maggiori (Author of "Smart Until It's Dumb", Freelance Software Engineer)
Title: What is more worrying: AI or its hype?
Presenter: Kenneth Cukier (Co-Author of "Framers: Human Advantage in an Age of Technology and Turmoil, The Economist)
Title: AI, economics, mental models and yes, theology
Presenter: Max Khan Hayward (Philosophy, Sheffield)
Title: Empathy for Avatars:  Social Media, Political Dysfunction, and Empathic Cues