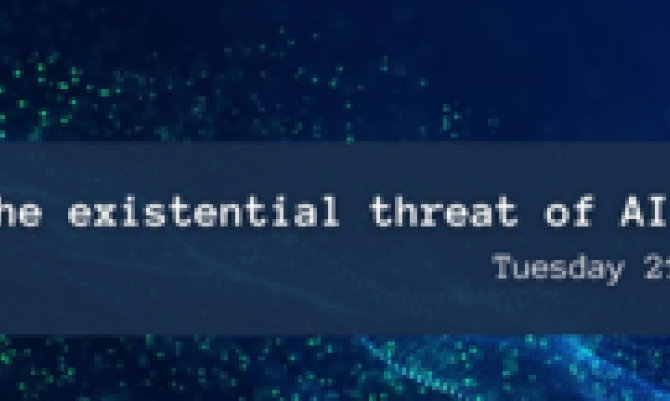 Is the existential threat of AI overhyped
Tuesday 21 November 2023, 5.30pm: Doors open
6pm - 7.30pm: Panel discussion
7.30pm - 8.30pm: Drinks reception
In-person: The Cheng Kar Shun Digital Hub at Jesus College, Oxford
Online: via Zoom webinar - Please register to attend by Wednesday 8 November 2023
Artificial intelligence is already revolutionising our everyday lives, with the impact of AI only set to increase as the technology advances.
 
But what does this mean for society in general? Will robots take our jobs? Will humanity lose control to some form of superintelligence, or is the existential threat of AI being overhyped?
 
Join a panel of Oxford experts in AI ethics and application as they discuss the risks and benefits of artificial intelligence.
Speakers
Introduced by Professor Sir Nigel Shadbolt Principal of Jesus College and Professorial Research Fellow in Computer Science.
Host and panel chair Dr Alex Connock Senior Fellow in Management Practice, Saïd Business School.
Professor John Tasioulas Director for the Institute for Ethics and AI, and Professor of Ethics and Legal Philosophy in the Faculty of Philosophy. 
Professor Helen Margetts Professor of Society and the Internet at the Oxford Internet Institute, and Director of the Public Policy Programme at the Alan Turing Institute. 
Dr Caroline Green an Early Career Research Fellow at the Institute for Ethics and AI, and Research Fellow at Reuben College
Further speakers to be announced.